As we all know, staying home with the kids or raising children in general, is not short of challenges. I am thankful to have two beautiful boys who are innately good and healthy kids. I was sharing some daily challenges with Pete last night regarding David. We have been battling the "terrible two's, but it is hard to describe David as terrible because his "terrible" really isn't so terrible at all.
However, you throw a 12 hour day on top of a little bit of terrible, and a little misbehavior turns out to be a lot more disagreeable than it really is. I have to be constantly checking and reminding myself to continue to have high standards of behavior for David (and James, too), but I also need to remember: he is only 2.
Yesterday, I chose to reprimand more than I chose to reward. I don't like that side of being a mom, but I know discipline has to happen if I want good kids. While it is necessary, disciplining is exhausting. Being a parent is exhausting! While I might want to let the kids get away with unacceptable behavior in attempt to get away from the parenting part, I just keep telling myself that I am making them better, more responsible kids in the end.
So, after having kind of a rough day yesterday, I decided the moment I woke up today to try to improve our day anyway we could. Does that mean I need to be extravagant? No way! Does that mean I need to spoil or let the kids misbehave? Definitely not. I just tried to make our day the best day by just paying more attention to my kids, and rewarding them with positive attention when they did something good.
Good meaning: being kind to each other, playing nice independently, playing nice together, helping mom, helping each other, helping without being asked, listening to mom, eating well, and any other pleasant behaviors I could give positive reinforcements for .
D & J sitting nice by each other, D pushing his own cart, detouring at the craft store to play with letters.
Our day started out as usual, I heard both kids playing and talking in their cribs and got up to get morning snacks ready before hopping them out of bed. I sat on the couch with David and had my coffee instead of drinking it in my chair. I decided getting out of the house for a few hours would be better than stewing at home for the day.
I think if the kids get the feeling they are doing what
they
want to be doing, they are more well behaved. I tried to approach the day like even though we had to go to the grocery store, it really is time we are spending together learning and having fun. Instead of dragging along the kids while getting a few grocery items, David pushed his own little cart and we picked out what we needed for supper together.
At the craft store, we hung out in the wooden letters aisle for a solid 10 minutes. I swear David picked up every letter. "M. M is for mouse. M sounds like mmmmm."
The boys and I stopped at a little restaurant and shared lunch. David oddly wanted black beans and salad, so we got it and he ate the whole thing. James kicked his legs in the high chair the whole time, shoving chicken and black beans in his mouth like it was the best thing he had ever eaten. The diaper following that meal was an experience to say the least...
We enjoyed each others company, got done what needed to be done, and treated the day like an adventure. With all this "excitement" there was a lot less complaining and misbehaving. Even James was in a great mood. Both kids fell asleep in the car on the way home. I tucked them in their cribs when we got home and enjoyed the sweet silence of sleeping children. A silence I deserved, for it was great day.
Need a little "best day" inspiration for your home? Check out the
Best Day Ever Prints
from
Erin Jane Shop
on Etsy!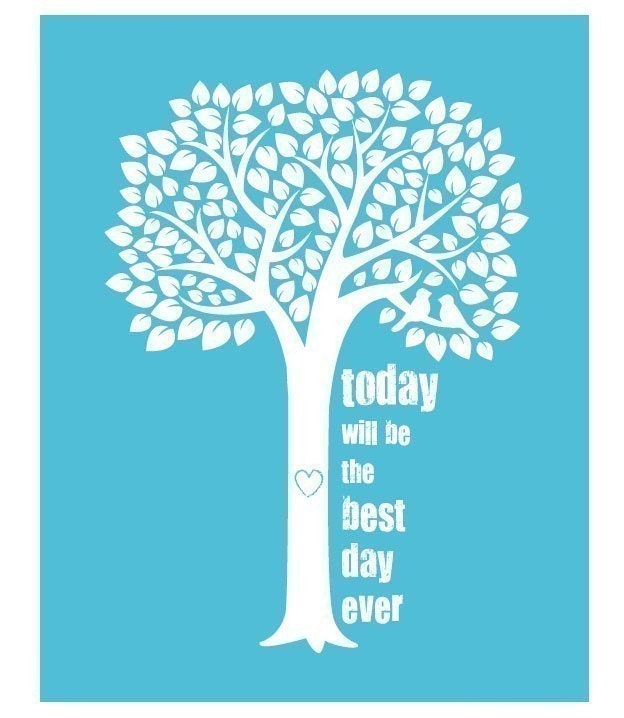 Photo Credit // Erin Jane Shop